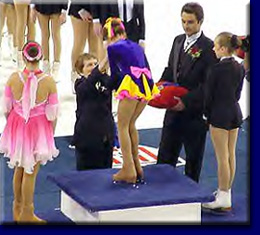 Medal ceremony for juvie at Nats '01
And the Gold Medal goes to...
Welcome to perhaps the largest compilation of synchronized skating results on the web! Click on the links below to find results from each year. If you have results that should be included here, or if the data posted is incorrect, email the Webmistress.
Results Archive
2003-04
2002-03
2001-02
2000-01
1999-00
1998-99
1997-98
1996-97
1995-96
1994-95
1993-94
Old Stuff
Novice Represents San Diego Well!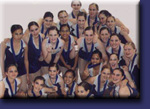 The novice team placed fourth at nationals last season, earning a pewter medal! In 2002 they won the bronze medel, and in '01 they won the pewter. To see results from last season, go here.


Gold Medal for Juvenile!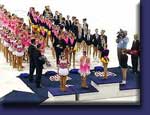 Nationals 2001 proved to be an exciting trip for everyone! The juvenile team placed first in thier division, which was not only the first gold medal for San Diego, but it was the first for the entire Pacific Coast!


Pacific Coast Champs!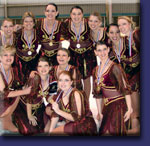 All four teams won gold medals in each of their divisions at pacific coast this season (Senior, Intermediate, Teen Intro, Adult)! Team del Sol has won gold medals at Pacific Coast every year since 1986!